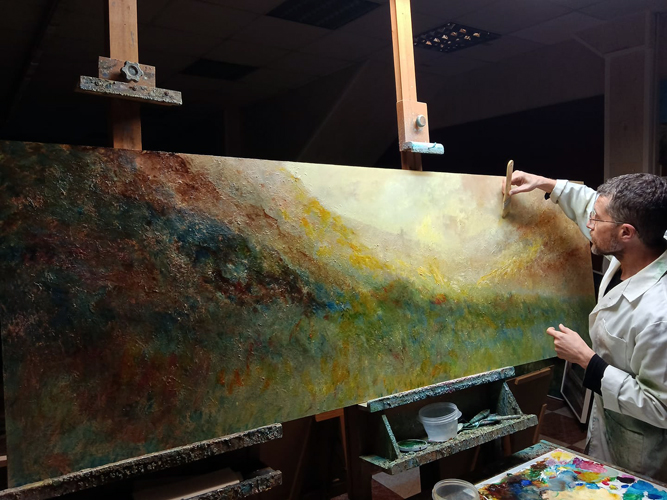 Español
Nació en Valencia en 1968. Es autodidacta, aunque creció en un ambiente que produjo grandes pintores. De hecho, creció en un ambiente propicio para estar con pinceles. Nieto del premiado Luis Giner Valls y sobrino de los pintores Giner Bueno y Giner Godella, su legado se refleja en el tratamiento de los paisajes, la elección de la paleta y su gusto por la luminosidad. Inició sus actividades pictóricas a temprana edad. Es miembro del "Círculo de Bellas Artes de Valencia" y fue premiado en la II Bienal Valenciana de Pintores y Escultores.
En la evolución de su técnica perteneció a la famosa "Escuela de Godella", actualmente considerado uno de sus más jóvenes y máximos representantes. Numerosas exposiciones por toda la península avalan la solidez del artista. Paisajes marinos, árboles, prados y flores cobran vida en los lienzos del pintor. En general, muestra una imagen tranquila con ventajas técnicas y cromáticas refinadas. Su estilo personal aporta fuerza a sus pinturas. Evoca las huellas de la naturaleza ante ella con una fugaz paleta postimpresionista.
English
He was born in Valencia in 1968. He is self-taught, although he grew up in an environment that produced great painters. In fact, he grew up in an environment conducive to being with brushes. Grandson of the award-winning Luis Giner Valls and nephew of the painters Giner Bueno and Giner Godella, his legacy is reflected in his treatment of landscapes, his choice of palette and his taste for luminosity. He began his pictorial activities at an early age. He is a member of the "Círculo de Bellas Artes de Valencia" and was awarded a prize at the II Bienal Valenciana de Pintores y Escultores (II Valencian Biennial of Painters and Sculptors).
In the evolution of his technique, he belonged to the famous "Godella School", currently considered one of its youngest and most important representatives. Numerous exhibitions all over the peninsula guarantee the solidity of the artist. Seascapes, trees, meadows and flowers come to life in the painter's canvases. In general, he shows a calm image with refined technical and chromatic advantages. His personal style brings strength to his paintings. He evokes the traces of nature before her with a fleeting post-impressionist palette.
Français
Il est né à Valence en 1968. Il est autodidacte, bien qu'il ait grandi dans un environnement qui a produit de grands peintres. En effet, il a grandi dans un environnement propice à la présence de pinceaux. Petit-fils du primé Luis Giner Valls et neveu des peintres Giner Bueno et Giner Godella, son héritage se reflète dans son traitement des paysages, son choix de palette et son goût pour la luminosité. Il a commencé ses activités picturales dès son plus jeune âge. Il est membre du "Círculo de Bellas Artes de Valencia" et a reçu un prix à la IIe Biennale valencienne de peintres et de sculpteurs.
Dans l'évolution de sa technique, il a appartenu à la célèbre "école Godella", dont il est actuellement considéré comme l'un des plus jeunes et des plus importants représentants. De nombreuses expositions dans toute la péninsule garantissent la solidité de l'artiste. Les paysages marins, les arbres, les prairies et les fleurs prennent vie dans les toiles du peintre. En général, il montre une image calme avec des avantages techniques et chromatiques raffinés. Son style personnel apporte de la force à ses peintures. Il évoque les traces de la nature devant elle avec une palette postimpressionniste fugace.
Últimas exposiciones/ Last exhibitions
2022
Galería Maika Sánchez, Valencia ESPAÑA
2018
Galería Maika Sánchez, Valencia ESPAÑA
2017
Galería Van Gogh de Barcelona ESPAÑA
2016
Galería Echaniz de Alicante ESPAÑA
2015
Galería Bellas Artes de Gijón ESPAÑA
2014
Galería Segrélles ESPAÑA
2013
Galería Gabernia ESPAÑA
2012
Galería Puerta de Alcalá de Madrid ESPAÑA
2011
Corte inglés (Colón) de Valencia ESPAÑA
2010
Corte inglés (Colón) de Valencia ESPAÑA
2009
Galería Zafiro de Castellón ESPAÑA
2008
Corte inglés (Colón), Valencia ESPAÑA
2007
Corte inglés (Colón), Valencia ESPAÑA
Galería Zafiro de Castellón ESPAÑA
2005
Galería Zafiro de Castellón ESPAÑA
2004
Corte inglés (Colon) de Valencia ESPAÑA
Galería Estudi de Villareal ESPAÑA
2003
Galería San Jorge de Alcoy ESPAÑA
Galería Estudi de Villareal ESPAÑA
Obras en permanencia
Galería Puerta de Alcala, Madrid ESPAÑA
Galería Zafiro, Castellón ESPAÑA
Galería Echaniz, Alicante ESPAÑA
Ferias de arte/Art Fairs
2005 Arte, Sevilla ESPAÑA
2010 Feria Internacional "DeArte", Madrid ESPAÑA
2015 Interarte, Valencia ESPAÑA